May 2 - June 23, 2019
Elisabeth Jones Art Center
516 NW 14th Ave, Portland, OR 97209

Open: Wed-Sun, 12-5pm
Opening Reception: May 2, 5-8pm. Performance at 7pm
Closing Ceremony & Performance: June 23, 5pm
October 7-31, 2019
Kathrin Cawein Gallery
Pacific University (front corner of Scott Hall)
2043 College Way, Forest Grove, OR 97116

Open: Mon-Fri, 1-5pm
PLUS Open Studio weekend: Oct 19-20, 11am-5pm
Opening Reception: Oct 7, 4-6pm
Closing Reception: Oct 29, 4-6pm
Join artist Emily Miller for an interactive art installation with 1,000+ pounds of fishing rope debris, from "ghost net" lost at sea to responsibly recycled material from commercial fisheries.
I'll be working in the gallery throughout the exhibit, making baskets on my sewing machine and inviting everyone to participate in transforming this marine debris into art!
schedule
participate
COLLECT: Gather ghost net from the beach, and salvage retired net and long line from local fisheries
CREATE — Starting October 7: Untangle and unwind fishing rope... Take home materials... Explore a new material to make art... Lead collaborative work in your specialty!
contributing artists
Emily Miller
Project Leader
I have spent my life on the coast, and all my artwork has its roots in my love of the sea: from watercolor landscapes to functional ceramics, interactive installation, and more.
Katherine M. Beem
Katherine is a multimedia artist who creates surreal, colorful pieces that reflect the world around her.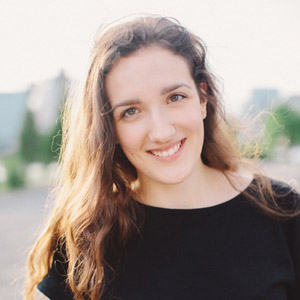 Elise Dixon
Elise is a performer and theatre-maker fascinated by words, communication, collaboration, the ephemeral, the tangible, and the pursuit of social change.
SF-DURA
SF-Dura work collaboratively and partner with various artists to design and build functional sets, stages, and landscapes crafted to fit specific art work.
Lucretia Hatfield
Lucretia's love for nature inspires, and informs her art no matter what medium she works in.
Lisa Light
Lisa is an Oregon Coast artist whose passion is exploring more eco-friendly mediums, up-cycling and recycling materials, and transforming marine debris, such as sea glass into wearable art.
Maggie Machado
Maggie has a lifetime experience of innovative and creative fiber arts, with a special interest in decorative knotwork, needlework, ply-splitting, and weaving of 4-selvage mats.
Palmarin Merges
Palmarin Merges is an artist whose work draws from the desire to become more sustainable by re-using materials close at hand and by adapting restriction as a generative force for creation.
Shana Palmer
Shana Palmer is an artist, curator, musician and performer whose works explore the mythical, uninhabitable and liminal spaces, blurring the lines between narrative and symbolic structures.
Shelby Silver
Ecological artist Shelby Silver couples self-taught impasto techniques and her background in fiber art with plastic marine debris she collects along the Oregon Coast.
Una the Mermaid
Una the Mermaid is a traveling mermaid performer who uses her background in psychological development to inspire play and creative imagination in the young and young at heart all around the Pacific NW.
Wiley
Wiley creates self-reflective works, with materials and methods associated with her childhood, in an effort to better understand how her lived experiences create and shape who she is.
learn
Ghost net is one of the most abundant and dangerous sources of marine debris in our oceans.
This lost or abandoned fishing gear makes up 46% of the mass in the Great Pacific Garbage Patch, where it entangles wildlife and disintegrates into microplastics, affecting every level of the food web and marine ecosystem.
Since 2015, I have created machine-stitched baskets from this fishing rope washed up on the coastlines of Oregon, Kauai, and Maine. The collection site of each rope tells its own unique story about the effects of coastal industry on local and global scales.
In 2018, I pulled rope from a massive environment created from two tons of ghost net, hauled off Kauai's beaches by Surfrider Kauai in just two months.
This experience directly inspired the Ghost Net Landscape installation. By bringing the pile into the gallery, the project shares its powerful physical presence - a small fraction of what washes ashore every day. What happens to the material after it is removed from the ocean is a work in progress. Ghost Net Landscape seeks to discover how much artwork I can create from the mass, and to show how much more can be done when we work together.
Worldwide, I've seen a variety of evolving solutions. Companies are melting down ocean plastic for use in products like skateboards, shoes, and building bricks. Some places (including Hawaii) incinerate it in modern waste-to-energy facilities. And more and more artists are taking advantage of marine debris in their work!
project timeline
press
sponsor
Basket sponsorships fund the transportation and processing of materials, as well as artist fees for three months of full-time work.
I gladly consider requests to include specific colors in your basket, but cannot guarantee availability, as it all depends on the rope that I find.
Click here to sponsor now!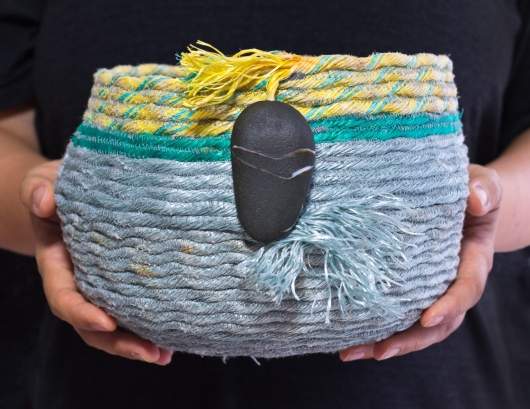 partners
Join the team to help support this project with materials, manpower, facilities or funding!
Ghost Net Landscape funded in part by the Regional Arts & Culture Council and Forest Grove Public Arts Commission.
© 2019 Emily Miller fine art - Ocean-inspired artwork from Oregon & Kauai.